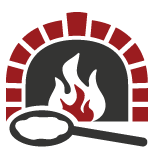 Welcome
Mama Mia's Italian Restaurant in Niagara Falls has served locals and tourists alike since 1958. Located in the heart of Niagara Falls, Canada, Mama Mia's offers great Italian dishes that you are sure to love. We are only a 5 minute walk from the magnificent Niagara Falls, make a left at the top of Clifton Hill.
ON-SITE PARKING AVAILABLE
April 3, 2021-GREY ZONE/RESTRICTED
Monday-Thursday Closed
Friday-Sunday 3 pm- 8 pm
As per Provinical regulations, Mama Mia's will be closed to dine-in and outdoor eating. Take-out, curbside pickup and delivery (small fee) will still be available.
In order to keep our staff as well as our guests safe, we ask that you respect and follow all COVID-19 protocols when entering the restaurant for pick-up.
Mama Mia's appreciates your continued support during these shutdowns and looks forward to serving you all again when we are allowed to do so!